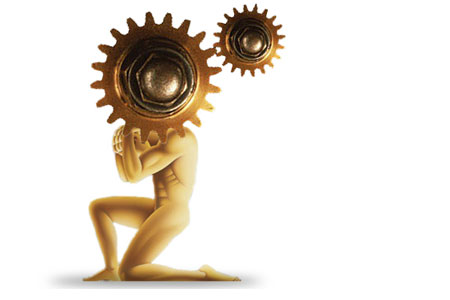 I have a System. It works for me. It's still an idea in progress, but for an INFP what isn't?
I will try to explain it briefly because I see all things through this System view.
The System exists. It is made up of relationships between people and things and ideas.
The System is made up of smaller systems like government and game shows.
The smaller systems are made up of Games.
Games have Rules. You play the Games with the Rules to get the Reward (happiness, a job, physical objects, self-improvement goals, or just wanting to be left alone are all Rewards).
If you don't want the Rewards, don't play the Games. If you don't want to play the Games, don't whine that you're not getting the Reward.
You don't have to play by all the Rules, but you have to learn the Rules in order to break the Rules. Breaking the Rules is necessary to maintain your individualism.
Rewards are not specific to a particular Game. You can choose another Game to get your Reward if you don't like the one you're currently playing.
Not all Rewards and not all Games are available to everyone. Sorry, but life isn't fair. Deal with it.
Example
I like Jon Krakauer's non-fiction novel, Into the Wild, as an example. In the story, our fearless protagonist Christopher leaves middle-class America and wanders into the Alaskan wilderness. He runs out of resources, starves to death and dies weighing 67 pounds.
Christopher goes from one system, middle-class America, to another system back country Alaska. He goes from one game to another, maybe the "White Picket Fence" Game to the "I Don't Want To Die" Game. Perhaps, Christopher thought he was playing the "I Want To Be Free of Material Trappings" Game and that's why he lost the "I Don't Want To Die Game" because he was playing by the wrong Rules.
Frequently Asked
What are the Rules?
The Rules are created by those who have gotten the Reward. Some people choose to write books to teach you how to get the Reward. The Rules are any set of guidelines that get you to a particular Reward.
Can I make up my own Rules?
You don't make up Rules. You discover Rules that let you get a Reward. Yes, new Rules exist, but discovering new Rules is time-consuming because it's usually by trial and error. If discovering the Rules takes too much time away from actually playing, don't be surprised if you don't achieve your Reward.
What if I don't like any of the Games?
Like I said, you don't have to play. Just don't whine when you don't get the Reward.
Good Players vs Poor Players
Good players know what Rewards they want.
Bad players just play and wonder why they aren't getting anywhere.
Good players learn more than one set of Rules to get to the Reward they want.
Bad players don't think the Rules apply to them and feel slighted when they are not rewarded.
Good players choose their Games. They don't get sucked into Games by not choosing.
Bad players complain that they didn't want to be playing in the first place, but they didn't choose not to play and then do something about it.
Good players know when to stop playing the moment they no longer want the Reward.
Bad players think that they have no choice but to continue playing whatever crappy game they're currently in.
Some of the Games That I'm Currently Playing
"I Don't Want To Die" Game
Reward: not dying
Rules:
Rules for Games are system specific. For my current system, first world country, the rules are pretty simple. 1. Do something someone will pay you money for. 2. Buy food and shelter with said money. 3. If possible avoid things that will kill you like traffic accidents and sociopaths.
Some of the other Games I choose to play:
"I Don't Want To Be Poor When I'm Old" Game
"Make Sure My Family Knows That I Love Them" Game
"Be A Good Friend" Game
"Don't Suck At Being You" Game
All of these have Rewards. All of these have Rules. I only like some of the Rules. I don't know all the Rules but I know enough of them to know which ones I can ignore.
INFPs and the System
INFPs that resist the System are the unhappiest.
Unhappy INFPs don't like their system, but are unwilling to play the "Moving To a Different System" Game. They don't like their relationships in the current environment (i.e. their relationship to the government, their relationship to society, their relationship to other people — all systems are relationships), but are unwilling to take action to move to a different system.
Unhappy INFPs don't like the Rules for some of the Games they are forced to play like the "I Want To Eat" Game. Rules are system specific. You don't have to work, but don't complain when you don't get the Reward – eating.
Unhappy INFPs think the System, the systems, the Games, the Rules are unfair. Of course they're unfair, but they're unfair to everybody.
The Lesson To Be Learned From All of This
The great thing about life is that we can believe any damn thing we like. I find that INFPs more often than not choose to believe things that hinder them instead of help them.
We believe we're not good enough because our parents taught us this by belittling us or by just ignoring us. We believe if we find the right person, everything will be better meanwhile we put our lives on hold until that magical person comes along.
Beliefs are taught. If we don't like the ones we have, learn better ones.
Or just make them up.