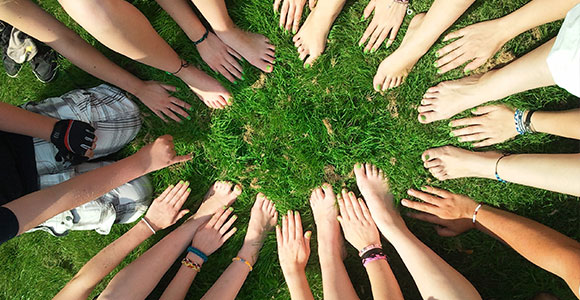 Almost every Friday for the last 13 years, I've gone dancing at the same dance club. Last Friday, I met Ryan. I wouldn't have noticed him if my friend Rebecca hadn't pointed him out as someone she considered cute. I asked her why she didn't go over and say hi, but she's shy. It's hard to put yourself out there when you're single and a corner mouse. I was that shy in my early 20's. Since I wasn't anymore, I decided that by the end of that night, I'd meet him and introduce him to her.
I told Ryan how Rebecca and I noticed that he was a good dancer. I asked him how often he went to this club. He said he'd been dancing for years, but he kept to himself. I proceeded to introduce him to all the regulars who are hubs (i.e. people that others flocked around). Ryan does SCA (Society for Creative Anachronism), graduated from one of the top engineering colleges in the country (School of Mines) and plays D&D. I use to go swing dancing with a guy who did SCA so I know little about it. My sister went to School of Mines and I use to play D&D. So I kept my small talk to those three topics.
This is how I met Rebecca 3 years ago. She was a dance club regular, sitting in the corner. I said hi and introduced her to all the hubs. I discovered she was a teacher and we ended up talking about teaching and school districts. Three years later, she's one of my strong ties.
I wrote in my first post on friendship about how I decided to stop having friends. Because of that I have more people in my life now than I did before.
Before I stopped having friends
INFPs have a tendency to call friends just those people who are strong ties, people who we feel connected to. Everyone else is an acquaintance.
The problems with the friend/acquaintance model are:
1. INFPs become too dependent on a small group of friends to fill all their emotional needs.
My friends are busy. They have lives outside of their friendship with me. When we heavily depend on a small group of people to fills our need for connection and those people are not available, we feel hurt that they're not making time with us more important.
2. INFPs become needy and desperate when we feel we're losing a friend we've invested so much energy into.
When our friends are too busy to see us, we interpret it as a sign that we aren't important in their lives. We set aside time in our schedule to accommodate them. We make that extra effort to align our schedule with theirs to have time together. However when our friends don't reciprocate and cancel on us, INFPs grow resentful.
3. INFPs develop expectations of their friends based on their INFP ideal of friendship
We assume that if we put extra effort into a friendship then our friends should do the same. INFPs have this ideal for friendship that we want others to adhere to. INFPs become demanding in our passive-aggressive way because we only want what we think is "fair" which only serves to drive our friends away.
4. INFPs get stuck in their friendships
We tell ourselves that those people weren't really our friends and we somehow misinterpreted our feelings. We seek out new people to become close friends. And with those new close friends, we rehash the same thoughts and ideas. We start the cycle all over and wonder why we haven't grown emotionally in our friendships.
Strong ties and Weak ties
I finally got exasperated with myself and gave up trying to seek out friends. I meet people to see if I find them interesting.
For me, people fall into two categories: people I like spending time with and people I avoid. The people that I enjoy spending time with fall into two categories: strong ties and weak ties.
Strong ties are the people I feel connected to in multiple aspects of my personality. Weak ties are people who's company I enjoy but our connection is only in one or two area. My "friends" fall into both categories. Most of the people I see out dancing are weak ties. Basically we have multiple similar interests (music, movies, books, writing or some type of art, etc), but we connect on just one or two mutual values. My strong ties and I share similar problems and we connect across multiple values, but we only have one or two similar interests.
I treat my weak ties and strong ties equally. I won't cancel lunch with a weak tie because a strong tie calls up and wants to do something. If a strong tie is late, I won't wait any longer than I would with a weak tie. The difference between strong ties and weak ties is that I go to my strong ties to bounce off thoughts and ideas when I have problems. Since we share multiple similar values, they will give me insights that will align with my values.
INFPs want all their friends to be strong ties, however people change. We can't make the assumption that a person who's a strong tie will always be a strong tie. People go on to a different set a problems that we can no longer relate to and that's the big reason why strong ties grow apart. We can see this when we get married and have kids. Our single friends can't relate to our problems of diapers and picking the right school. We've already gone through the single-life drama of someone we like not calling us back.
The biggest issue with only having strong ties is that we get stuck. I've known my strong ties for a decade plus so I know what they think about life, religion, free will, World of Warcraft and what movies they're looking forward to seeing next year. I know what we agree on and what we disagree on. No new ideas get introduced.
Weak ties are where new ideas and inspirations come from. It's weak ties where we find new opportunities. We run in most of the same circles as our strong ties so all the opportunities that they know about, we know about. I've found all my jobs from weak ties. It's my weak ties that I get recommendations for people and services I need in my life. It's also weak ties that challenge us to grow our relationship skills because we don't sync with them as well as we do with strong ties.
Now vs Then
Having strong and weak ties has made all the difference in my life. Here are the biggest:
1. I'm not possessive of my friends anymore.
I'm more than willing to introduce new people to other people in my life. Mostly, it's just a nice thing to do especially for introverts who have problems meeting new people. This new person might end up being a life love of someone I've introduced them to. This new person could end up helping a friend in someone way that I couldn't. This new person might make a friend's life better.
2. I no longer wait for people.
If someone is suppose to show up to lunch and they don't. Oh well. I'll catch them the next time. I always have a book with me. I don't view it as someone not showing up. I view as much needed time away from the kids with a good book.
When I have many people in my life that I can have a good conversation over lunch, missing out on one isn't that big of a deal. I don't end up giving off that needy vibe which in turns attracts more people into my life. People want friendships that are easy and not full of expectation and pressure.
3. I'm more generous, but I say no more often.
I use to stress myself out trying to help out my close friends. I would ignore helping out acquaintances unless I could see some advantage to it. That wasn't the type person I wanted to be.
This weekend I gave away an old Christmas tree to a weak tie. It will be her first Christmas tree with her boyfriend that just moved in. Last week, I fixed a laptop for a strong tie. This week I'm helping my brother design a logo for his new company. I'm always doing something for someone. However, it's all stuff I want to do.
I don't feel guilty turning down requests for help. If someone gets mad and stops talking to me (which has never happened), I have other people in my life.
4. I'm less emotionally demanding.
I have more people to pick and choose from when I feel social. Sometimes I want to talk nerd. Sometimes I want to talk about raising kids. I have different people that I go to for each. I don't have one or two people that I have many things in common with. I have one or two things in common with many different people. It's easier on the people in my lives. They know they can turn me down without having to feel guilty.
The Distributed Model of Friendship
The downside is that I don't have one best friend. The upside is that I don't have one best friend.
Single dependencies leave much out of our control and can drastically affect our life if that dependency is no longer there. If a best friend is busy, we have to wait. If we have a falling out with a best friend, they have a lot of ammunition to negatively impact our lives.
If I have many different people that I share different parts of my life and different aspects of my personality then I only need to compensate for that part if something goes awry. If a regular poker group moves away, I find other poker players. If one group is overloaded with their day-to-day, I go to a different group.
No one person knows everything about me. I don't think a single person ever could. However, many people know important parts about me. The parts I think they'll get.
With Ryan, I now have another person to speak nerd with or if I ever have any questions about materials engineering or SCA. Perhaps, we become "good friends" but that's not the point. I don't form weak ties in order to build them into strong ties.
I build weak ties because that's another person who could make my life more interesting.