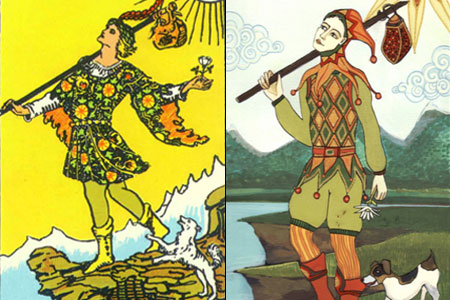 It's officially been one year since I launched my blog. I'd like to thank all my readers for reading my very long posts and for commenting. I appreciate it so much.
My favorite card in the Tarot major arcana is the Fool. I think The Fool is the INFP card. He represents wisdom without reason. He represents the beginning of a journey and journey's end. Like INFPs, we are always starting our journey to our Ideal Self and that the same time, we are who we are.
In one hand, the Fool holds a flower that represents the appreciation for beauty. Over his shoulder is a stick representing wisdom which dangles a small bag with the few belongings he actually needs. At his foot, there's a dog which represents reality or the real world always nipping at his heels. The Fool seems oblivious to the precipice that he's about to step over. INFPs, like the Fool, live on the edge of reality always moments from falling over and being lost forever in our dream world.
The Fool is the card of infinite possibilities. It's also the card of blind faith. When it appears in the spread, it can signal a restarting of your life and that great change is coming. I like the Fool card because it reminds me of my favorite quote by T.S. Eliot: "We shall not cease from exploration and the end of all our exploring will be to arrive where we started… and know the place for the first time."
That exploration is the INFP journey to find our Ideal Self. We will find it where we started but only after our travels are done. The Fool has always held special meaning for me.
However, that isn't why I started my blog on April 1st. I just thought it was cute and ironic that I start on a day that people associate with joking. Attaching meaning to my blog with how the start date relates to the Fool and April first being the start of the 2nd quarter was something I did later. For me, meaning comes later. It works better that way.
As INFPs, we continually search for meaning. What does it all mean? What's a meaningful job that I would like? We want meaning in our lives to find some order in a seemingly random and uncaring world. We imagine what we think would be the perfect job for us then we pursue it. We create this image of the perfect girl or guy for us and then we look to the outside to find someone to match that image. We start with a belief in an ideal and look outside to find that ideal.
The problem is that the world outside our head isn't perfect. It's messy and complicated and a Fool's blind faith has never gotten us to the perfect picture we imagined. Trying to figure out meaning first and then trying to make the world prove that such meaning can exist is backwards. It's like the scientist that has theory and then tries to find facts to prove that theory. The apple dropped on Newton's head first and then he came up with his Laws of Motion, not the other way around.
Meaning is theory. Theory exists to explain facts. That's how it's always been done. Our ancestors looked into the sky and saw stars and the darkness between and then created their mythology to impose meaning onto the emptiness. INFPs want meaning to come first and wonder why re-inventing the wheel isn't getting us as far in life as we had dreamed. Of course when things don't work out, INFPs have no problem attaching meaning second.
If we never got the awesome job and we have debt, that must mean that money is evil. If we were never surrounded by the crowd of adoring friends, that must mean that we're so special that only a few people will ever truly understand us. If all the relationships we've had ended badly, that much mean all women/men are generally jerks and we just have to be more careful the next time. INFPs attach meaning after the facts all the time, but usually only when bad things happen.
It's more fun to attach meaning after good things happen. Whenever I go somewhere, if I find a convenient parking space right away then I know I was meant to be there. I always seem to find great parking so I'm always meant to be wherever I am.
INFPs think that finding meaning first will make things better. If we can figure out what would be a meaningful job then we'll be happy when we finally get that job. What INFPs don't seem to grasp is that meaning makes things bearable, it doesn't make things better. Unless we love our job, a crappy job is still a crappy job even if it means something to us. Unless someone enjoys being in a war zone being shot at daily, the meaning that person finds in patriotism makes the job worthwhile, but it doesn't make the job better. Unless someone enjoy the endless parade of other people's problems, then any meaning they find in helping people isn't going to make them like their psychiatry job more.
INFPs can have jobs we like and have those jobs be meaningful. However, we have to find something we like first and then figure out why it's worthwhile to be doing the job later. It's easy and natural for INFPs to do what we like. We act immediately to do the things we like. However when we try to find meaning first, we are always wondering if we can live with it if we find out we don't like it later. Meaning is complicated. Attaching meaning first leaves us with this nagging feeling, as we pursue our wants, about whether or not we're going to like what we wanted when we get it. That nagging feeling holds us back from fully committing to our endeavors which is why INFPs never succeed as well as we hoped.
So what does this blog mean to me in the long term? I don't know yet. What I know now is that, I like writing it. That's why I'm writing. Isn't doing something because we like it worthwhile in itself?