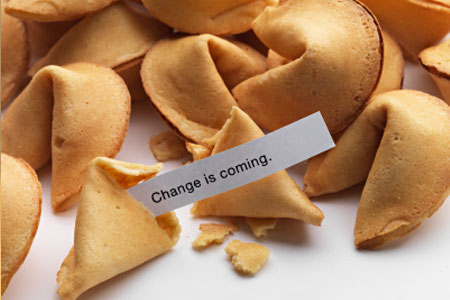 I'm changing. Or at least, I'm trying.
Self-help guru Tony Robbins says that change happens in an instant. It's not some long drawn out process. It happens the moment we decide. I choose to believe him.
People decide and then take action in that direction. Someone decides to stop drinking then they take action to go to AA. Someone decides to stop living paycheck-to-paycheck then they re-evaluate their spending habits. Change happens in an instant, but results from actions require time to come to fruition.
Time enough
For INFPs, time becomes the problem. How long does it take us to decide anything?
We ask ourselves endless questions. Is whatever I want to change as bad as I think or am I just overreacting? What will this mean to me afterward? It could take years before we reach the point where enough is enough and we make a decision. It's those years of inaction that we regret later, wondering why it took us so long.
Even after we decide and start taking action, we don't allow enough time for results to appear. We'd like to think our life is nimble, easily picked up and moved, but lives lumber like freighter ships weighted by the regrets of our past and the relationships in our present. After we turn the wheel, it takes time for that ship to actually turn. After we take action, it takes time for our lives to change direction.
INFPs are terrible at delayed gratification. We want to enjoy things now. So when we do something and don't see immediate results, we stop taking action.
Wherever you go, there you are
Two sayings are ever-present in my head:
You can't do the same things and expect a different result.
Wherever you are in life is as far as you can go with what you currently know.
If someone wants to be more comfortable in social situations, sitting in the corner, not talking to anyone like before won't produce a different result. If someone has had a string of bad relationships, going through the same decision process in choosing who to date is not going to fix that problem.
All the crappy things that happen in our lives are results of something we do or don't do. I drink way too much soda. I should stop, but I don't. That's where the second saying comes in. Where I am is as far as I can get with what I currently know. The only fix is to know more.
All the crappy people people in our lives is because we made a bad decision. Crappy people were crappy people before we met them and allowed them into our lives. We made a decision to have a relationship (friends, acquaintances, business partners, etc.) with these people. We can't fix crappy people. We can only make better decisions.
Nothing quite like the feel of something new
Change would be easier for INFPs without the diametrically opposed forces pulling us in opposite directions. In one direction is our need for the familiar, for the dependable like friends, sources of income or a good book. In the other direction is our dislike of the routine like repetition at a job and rehashing the same conversations with friends.
To compensate we embrace the different, but we avoid the new. If we write, we start working on a different story. We don't decide to paint our idea. If we enjoy being with friends, we convince those same friends to try different activities. We don't find brand new people because that would be unfamiliar.
Have you noticed that you and your friends use the same catch phrases? When we spend enough time with someone, we end up picking up the same vocabulary. We also end up picking up the same ideas. Same causes mean same results.
For me, new means brand new. New is something for which I have no reference. New means an adjustment period where I suck at whatever is new. This adjustment period forces me to grow.
My process
I call this period molting. As INFPs, the hard armor we've built around ourselves with our ideals and beliefs to protect us from the world, does not fit anymore. We feel constricted. As we begin to re-evaluate those beliefs, it feels like shedding old skin. As with all molting creatures, we become short-tempered and irritable.
INFPs are extremely vulnerable during this stage. In order to become something new, we've had to let go of the ideas and ideals of what we once were. Everything we used to protect ourselves is now suspect and until we rebuild a new layer of protection, we become extra sensitive to the outside world.
The first thing I do is I stop everything that I do regularly if possible. It's the same process as figuring out food allergies. If someone knows they're not feeling 100% and suspects their diet, they go through a cleanse and then reintroduce foods one at a time. It's the same way with my change process.
I do my cleanse by eliminating or restricting every activity and outside influence for a few weeks. For example, every week I go club dancing. I have since I was 21 because it keeps me sane. I haven't gone in a month. I've also haven't seen my friends either.
During molting, I monitor to see if symptoms subside. Phase 1 of molting, is about figuring out what I don't want. Many things I do are external distractions, enjoyable distractions but they help me avoid things in my life that I don't like. If I pause those distractions, the stuff I don't like becomes more glaring so I have to pay attention.
After some time, I add one thing back. I started dancing again, but not at the clubs. I went to learn Blues Dancing instead. It's not brand new, but different enough that I'm uncomfortable. Monday, I had a late night diner hangout with a new friend who I haven't seen in weeks.
Everything I add back into my life can't be too familiar or else I end up the same me as before. It's also at this point I go through my 20/80 process to figure out what to get rid of. During Phase 1, I move away from stuff I don't like. Phase 2 is where I set new goals and move towards something. I'll have to cover that in a different post.
Last thought
My friends ask where I've been and I answer with a non-committal "I've just been busy." They mistake it for recharging and I let them. I'm not recharging, I'm rebuilding and some of them might end up with smaller roles in my life when I'm done.
Rainer Maria Rilke in his novel The Notebook of Malte Laurids Brigge wrote:
What's the use of telling anyone that I am changing? If I am changing, then surely I am no longer the person I was, and if I am something else than heretofore, then it is clear that I have no acquaintances. And to strange people, to people who do not know me, I cannot possibly write.
This, of course, was before the internet so blogs don't count.