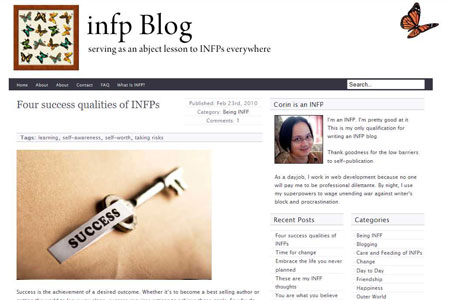 I waited a year before taking the time to design my blog. The first iteration took me 15 minutes to throw together from a template I found. This version, I spent roughly 60 hours designing and coding over the last 2 weeks. Even before I started design, my two questions were "so what?" followed by "who cares?".
Amanda Linehan, an INFP who writes a self awareness blog, Look Far, wrote about asking the right questions. For me, "So what?" and "Who cares?" are my most important questions. They give me perspective. They moderate my need for validation. "So what" reminds me that even though I think I'm unique and special, the universe is under no obligation to acknowledge this in anyway.
INFP Blog is my third blog. The first two failed. I forgot that the fundamental objective of any blog is building a relationship with your reader. Anyone who says that they write blogs for themselves needs reminding that if a person wants to write something no one reads, it's easier to keep a diary under the bed. Pen and paper have smaller learning curves than WordPress or Blogspot.
My first two blogs looked cool. I spent weeks with the design. My objective was to express myself by creating something that reflected me. If I asked myself "so what" at the start, I could have saved myself the trouble. After all the hours designing and coding those first blogs, no one read them. After the launch, I was too burnt out and too disappointed to get to the real work of building relationships.
Those failed blogs represent a bigger picture of how I formed relationships in my real life. I thought that if learned something really well and expressed myself with it, I'd be cool and people would be naturally be attracted. My self-worth would be validated by the awesomeness of my skills. Yeah, that didn't work.
Here's one thing I've learned about relationships. People don't like us for who we are. For the most part, few really know who we are. And perhaps since we're INFPs, most never will. People like us because of who they are when they're around us.
A common complaint on INFP forums is how INFPs are shy and a little bit lonely because we find it difficult to meet people with whom we connect. So instead, INFPs focus on self-development. However, if our goal is finding meaningful relationships, why are we so focused on something we aren't going to readily share with someone we don't already know?
INFPs learn and improve on skills and knowledge that make us unique whether it's Tarot, Vogon poetry, speaking Elvish or the MBTI. We get awesome at these skills and wouldn't mind being recognized by the like-minded for the time and energy spent. However, the only people who recognize the dedication are others with the same interest who also spent time and energy and would also like to be recognized for their awesomeness. For me, mutual back patting has never been a solid foundation to build meaningful relationships. As for the ones who aren't like-minded, they don't care if we know the meaning of moons in certain Houses or about Risings and Cusps. People only care what we know once they know that we care.
The question of "so what?" takes me outside of my head. So I redesign my blog, lots of people redesign their blogs every day. What makes me doing it so special? My answer was nothing. This leads to better questions:
Will my traffic increase because I redesigned?
Nope. I have 12 years of web experience to know that's untrue.
Will it make me feel better if the site looks prettier?
A little. I like shiny.
Will it make me feel better if the site is pretty and no one reads my site?
No
Is the reason for creating the site to make myself feel better?
No.
So what's a good reason to spend all this effort redesigning if feeling better was the reason for the site in the first place?
Because I can't find anything. Whenever I want to link to an old post, I have to go digging for it. If I have this much problem navigating my site, it's probably worse for someone else.
These are the same questions that went through my head a year ago when I first created the site. I couldn't find a good reason to spend hours on design so I put up something simple and focused on writing and building relationships instead. Now that I have a modest readership, I redesigned for usefulness to improve relationships. People are attracted to usefulness.
Yes, I could have redesigned to feel better. INFPs do that all the time. We do things to make ourselves feel better, but feeling better usually isn't the primary purpose. Feeling better is the consolation prize so we aren't too hurt if we fail at our primary goal. Feeling better is 2nd place. INFPs spend a lot of time and energy trying to reach 2nd place instead of focusing on our primary goals.
I could have redesigned to just express myself. Expressing oneself is necessary and essential for INFPs. However, when we do something that only benefits ourselves, no one else cares. Doing things to make ourselves feel better falls under the same category because it only benefits us. Why should anyone else care?
Here's a secret. Even though the new design is shiny, it's not my preferred design style. However, the navigation is cleaner. Using serif fonts and increasing the white space make long text easier to read. Also the new layout, lets me scale the the site into a resource. I have a space for book recommendations that a reader asked for 3 months ago. In short, it's more useful. Useful builds relationships.