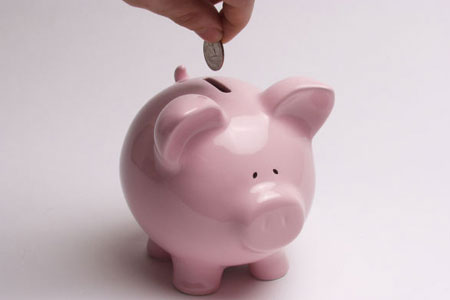 The most important thing I learned from Robert Kiyosaki about real estate investment was that a house isn't an asset. It's a liability. I don't own it. The bank does. It costs me utilities, maintenance, insurance, taxes and interest each month. Over a 30-year loan, I will have paid over 80% in interest. I would then need to sell my house for at least three times it's current value in order to break even.
A house is a liability because I'm still responsible for it even though I don't own it yet. If I don't make a payment, the bank takes the house away along with all the money I've put into so far. If the house burns down and I have no insurance, I still owe the bank the money I borrowed.
Don't get me wrong. I love being a homeowner. Owning a house fits my lifestyle, but I have no illusion that owning a house that I live in will make me a financial profit. People buy houses thinking they're making an investment when in reality they're taking on debt.
This is how I feel about dreams. INFPs think following a dream is an investment for future happiness, but sometimes it ends up costing us more than we realize.
Our Dreams as Investment
All dreams have a payoff, a Return on Investment (ROI). That ROI on achieving our dream is usually in the form of happiness and fulfillment. No one dreams great dreams that will leave them feeling unfulfilled and unhappy.
One of my dreams is to climb Kilimanjaro. In order to do that, I'll have to invest time and energy getting into shape, research and taking the time away from family. I have to invest resources by buying gear, plane ticket and a guide. In return, I hope to get a sense of fulfillment by crossing an item off my To Do List. I hope to get happiness in the form of a new experience. I hope to learn something that I can share with others. My ROI in the form of happiness, fulfillment and growth will be worth more to me than the investment of time, effort and money.
Everyone has dreams with payoffs in excess of the investment we put in. Whether it's the 10,000 hours to become an expert at writing or running our own business, whether it's the scrimping and saving to buy our first house, we invest in our dreams because we think we will feel better and happier after accomplishing those dreams.
However, INFPs do two things that give us poor returns on our dreams. INFPs sacrifice the now for the eventually. We hold jobs we don't like or put up with people we don't want in our lives if we see it as a means to achieving our dreams. On the other side, INFPs with our terrible grasp of delayed gratification, sacrifice tomorrow for today. We put stuff on credit card. We blow off our commitments. We take it easy now and hope that the future will work itself out on its own. We have to invest better.
Dreams in Changing Market Conditions
The problem chasing a dream for a future payoff is that the dream may not pay off later. Sometimes bad things happen. I could trip and break my leg the day before the flight to Kilimanjaro. Luckily, catastrophic luck is uncommon. What's more common for INFPs is achieving a dream we no longer want.
The ROI in achieving a dream is usually happiness, fulfillment and growth. When we stop wanting what we've worked for then we don't feel happy or fulfilled in achieving our dream . We end up feeling wishy-washy, regretting the wasted time and effort.
One example is students who change majors. As they learn more about their profession, they become less enchanted with the prospect of doing that profession day-to-day. Even worse, an INFP gets a job they dreamed about and it turns out to be less than ideal, but they're stuck at that job to pay off student loans and establish a life beyond school.
Not wanting what we've worked for happens because of changing market conditions. That market is you.
In the early 2000's, people invested in real estate because they heard others were making money in real estate. Housing prices had been rising for decades so many made the assumption that housing growth would continue. They invested heavily leveraging themselves beyond their means. When the housing market crashed in 2005, those investors were left with more debt than the value of their house. Getting rid of their investments produced negative ROI, but they couldn't afford to continue paying.
INFPs make the same basic assumption. Just because a dream makes us happy today, doesn't mean that it will continue to make us happy tomorrow. Our dreams make us happy in today's market i.e. how we are today. However, we change. Our values change. Because those values change, we make different decisions including the decision of which dreams will make us happy. INFPs leave jobs we once considered dream jobs and leave relationships with that person we once thought was "the one" because those things no longer make us happy.
As we grow, we can't guarantee ourselves that dreams that make us feel happy and fulfilled now will continue to do so.
Happiness on Happiness Return
In real estate, a different way to view ROI is Cash on Cash Return (CCR). CCR is the percentage return based on the actual cash invested. If we put $20,000 down on a house and we rent the house for $200 over the cost of mortgage and expenses, then our CCR would be 12% annually ($200 x 12mo / $20,000). If the market takes a dive and we lower rent to only net $85/month, we still make a 5% return which is better than sticking $20K in a bank to collect interest.
Happiness on happiness return is the amount of happiness that we get now in doing those things to achieve our payoff later.
We achieve a high rate of happiness on happiness return by investing in our happiness now in order to achieve our dreams. It's finding happiness in journey, in the tasks we need to do today so we can make our dreams happen tomorrow. This way, even if our dreams change, we don't regret our time and effort invested because what we were doing made us happy.
Making a Better Investment
Our dreams give us our individuality. It propels our growth. The moment we stop investing in our dreams is when apathy and entropy take over our lives. The object is to invest more wisely.
1. Get out of bad investments
We tend to hold onto a bad investment in hopes that it will turn the corner. We stay in bad relationships. We continue doing work that makes us unhappy. We don't want to take a loss because it means we failed.
Zero-based thinking
The quickest way to know if your dream has become a bad investment is to ask: knowing what I know now, would I have gotten into this in the first place? If the answer is no. It's time to get out.
The 80/20 Rule
Getting out isn't easy. If it's a job you don't like but you need to pay rent, you often times can't quit outright. Simplify things you want to get out of by applying the 80/20 rule which states 80% of results comes from 20% of efforts. Figure out the 20% that achieves your current results and do only those tasks. That way you do less, freeing up energy to be used for transitioning to the next dream.
2. Educate yourself
Investing requires a modicum of financial literacy to avoid simple mistakes that could become potentially disastrous. Investing in dreams requires basic emotional literacy to avoid mistakes. You have to know yourself before you can be true to yourself.
Figure out values
If your doctor told you that you had a month to live, what you spend that month doing? Whatever you answer is your highest value. If you answered that you'd spend time with my family instead of finishing up that project at work, family is a higher value than work. Dreams that don't align with values are discarded and we lose our investment of time.
Figure out needs
When we no longer want a dream, it doesn't mean the need that dream was going to meet has gone away. We have six critical needs. Maybe the job we wanted would have made us feel special (Critical Importance need) but then we realized that we'd never be very good at it so we quit our schooling for that job. This doesn't mean our need for Critical Importance is gone and we still need to find something to meet that need.
3. Find leverage
Investing $20K in shares of stock only gets a return on $20K. Putting $20K down on property can get a house costing over $200,000. That is leverage. Finding the right lever for your dreams can help you move mountains.
Write down goals
This doesn't have to be a list. It can be a journal. It could be a blog. Once goals are written, it solidifies from the ether of INFP wishful thinking into a practical lever that keeps us accountable to our integrity.
Don't reinvent the wheel
Someone has that job we want or that relationships we've dream of. Find the people that started where we started and are currently where we want to go and learn how they did it. We don't need to spend the thousands of hours of trial and error like they did. Our task is to use those hours to figure out a way to do what they did in a way that will keep us interested, engaged and happy now.