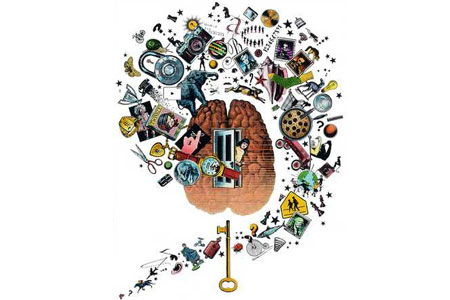 Someone asked me on Twitter how I became so knowledgeable about INFPs. The question makes me a little uncomfortable because it infers that I have some expertise with INFPs. I don't. I'm just very knowledgeable about me as an INFP.
I read Type Talk and Please Understand Me when I was 20 and fell in love with personality psychology. I read Myers and Briggs' Gifts Differing. I read Please Understand Me 2. That's the extent of my formal knowledge of the MBTI, and on top of that I disagree with the books.
I've always disliked the various descriptions for INFP. Some of it was true some of the time. Other parts didn't apply at all. One sentence described me incredibly accurately and the next would be way off base. I quickly decided that the MBTI types were really MBTI stereotypes. I don't mind stereotypes. Stereotypes are generalizations and generalizations can be useful, but they have no nuances. They don't take explain the gradations and the exceptions. The INFPs throughout my life are all very different even though we share certain common behaviors.
That's got me to thinking over the last 20 years of why INFPs are so different. Why are some Christians and others are Wiccans? Why are some more successful in their careers than others? I wrote this blog to share those thoughts about INFPs.
I think way too much. I think about myself way too much. I think about my behaviors in relation to how it can be explained in terms of INFP so much I'm surprised I'm not catatonic and drooling. This behavior has been constant in life and it's not healthy. So around 20, I started reading Tony Robbins and Brian Tracy and others. My thoughts as I went through their programs was, "Man this would be so much easier if I was a ESTJ."
However, like all INFPs, I picked and chose the parts that I liked and filed the rest away for later use. I'm 40 this year and being an INFP at 40 is very different than being an INFP at 20. I've been many INFPs in those years between.
I've been the Hopeless Romantic INFP who stole a Columbia St. street sign, gift-wrapped it and left it anonymously for a girl I had an unrequited crush on who was leaving for Columbia University. I've been the Starving Artist INFP who wanted to be writer without realizing that any novel not in the top 15 of the bestsellers list makes around $20K for 2 years worth of writing and revising. I've been the Reject The Norm INFP hanging out with all the other anti-establishment folk so I could feel special and different without realizing that I was just being lazy because rejecting something is so much easier than standing up for something.
At this time in my life:
I've been happily married for 13 years and counting. That's been an incredible challenge because some INFP behaviors are not conducive to healthy relationships.
I work full time as a web developer for a multi-million dollar company which lets me live comfortably and travel and even though I don't dislike my job, it's doesn't make me ecstatic to get up in the morning. However, no job ever has and I think it's an INFP thing.
I have 2 daughters, 7 years old (INFP) and 3 years old (??TJ), both of whom I love dearly but as an INFP I'm struggling with balancing time for myself which I need as an INFP and spending quality time with them.
I see myself as an entrepreneur so we own real estate. However, I just lost a bunch of money selling one of our condos because I made the classic INFP mistake of being too emotionally attached to an investment and held it too long.
I'm happy with the life I've created, but at the same time I'm antsy and unsatisfied. The reason for that is that I haven't worked towards growing into my Ideal Self for quite awhile. I've gotten comfortable and that's a dangerous place to be for an INFP.
If you've read my last post, this is my current system. Everything I write about being an INFP is colored by that system and the Rewards I'm seeking inside that system. I take what I know about my specific INFP behaviors in certain situations and then extrapolate general behaviors that could explain the behaviors of INFPs I know.
I think that INFPs that relate to what I write are in similar systems. They're INFPs that are happy with the lives they've built because they've worked hard to do so, but at the same time, they're antsy and they don't know why.
At first and this is so typically INFP, I wanted this blog for all INFPs. That was just very idealistic of me. In writing, writers develop a relationship with their readers. I see all things in terms of relationships that get created and dissolved. I also believe a major key to any lasting relationship is timing. It's two people in the same place and time in their life's journey deciding to go in the same direction for awhile.
This blog won't make sense to many INFPs because the timing isn't right. I don't think INFPs under 28 will get it. That's okay. The ones you don't relate now might relate later. Have a bad break up with someone you thought was your one true love. Work for a few years at your dream job and realize that it was more fulfilling as a hobby. Spend a few years getting rejection letters from literary magazines and then get published and realize no one cares except your loved ones. Meet the people that you once belittled as sheep for keeping with the norm and realize that they're doing the best they can just like the rest of us.
It's those INFPs who are at the time in their lives where they're looking for a practical and working balance between their Ideals and their current Circumstances who will relate to my thoughts because that where I am.