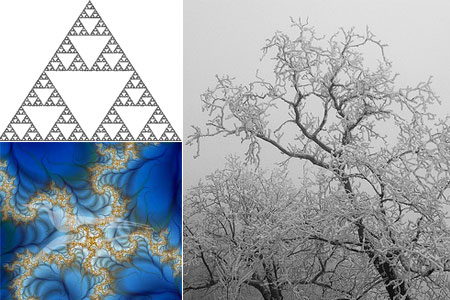 I am so screwed.
Let's do the INFP thing and begin at a seemingly unrelated topic: fractals and complex systems.
Fractals have a property called self-similarity which means that if you just looked at part of the fractal, that part would look roughly similar to the whole.
Complex systems have self-similarity. A person's life is one of those complex systems where interconnected behavior act upon each other to produce various outcomes. Say you're an early riser. That behavior produces a different set of outcomes than if you were a night person. Different opportunities present themselves. Different actions are taken. Different results are produced.
Self-similar properties get observed when you take the entire span of a person's life and map the ups and down and sideways of that life. That pattern of a lifetime would look very similar to an hour of a person's life which would be similar to a day which would look similar to a week or a year.
On an average day, I wake up and go to work. It takes me some time to get into the swing of things so I do the easy stuff first. Answer emails. Respond to calls. Finish up the boring paper trail leftover to do from the previous project. Then I start coding which is my most important task as a programmer because it produces tangible results. Around 3pm or so I start losing focus because of things that have come up.
Calls have been ignored, emails have gone unanswer and tasks for other team members are deferred because I don't want to break my focus on the task at hand. Those things become urgent around 3 because I need to start getting ready for tomorrow.
Around 4pm, I'm "caught up" on the miscellaneous or as caught up as I will ever be. I start planning on how I will leave things. I figure out what needs to be done and get everything in a place where the next person can pick it up if I got hit by a bus.
Then I go home and though I wouldn't mind time to myself, I have a family who needs me. Sometimes I can sneak a few minutes for myself. At 9pm, I put everyone to bed and then the rest of the time is mine. I stay up as late as I can because when I wake up tomorrow, my time won't be mine own anymore.
Compare that with my life so far. I think I spent the first 19 years of my life just easing in, trying to get my bearings. I didn't start doing the real work on my life, ie job, family, home until my mid-20s. Right now, I'm heading into 40 and it seems my time is largely devoted to other people's wants and needs because they need me.
So the question is: how long before everyone goes to bed so I can have my time? Will I be 50 before I start my novel? Will I be 60 before I have to time to just figure out what I want? If that's how it is, I am so screwed.
Okay, that's the stick. Here's the carrot.
It's called emergent behavior.
In this complex system called life, behavior is also self-similar. In other words, how we do anything is how we do everything.
If a person waits to the last second to finish cleaning up their room, that same person will wait to the last second to finish cleaning up their life. The go-getters who jump into their morning are the same people who jump into their new job, new college life, new marriage and so on.
So what if you're the type of INFP that can't figure out what you want to do for a job let alone what you're going to do for the rest of your life? What if you've tried different things to find out later that those things didn't make you as happy as you idealized them to be? Is your entire life going to be that self-similar pattern where on your deathbed you realize that the life you've lived really didn't make you as happy as you thought you would be?
Take this blog for example. I get all excited about this blog because it's new. I launch and write a few things in a very short time. Then I can't figure out what I want to say next so I take a break. Now that I have an idea, I'm writing again. So is that my life? I go from dilettante to middle-class family man in a relatively short amount of time. I haven't be able to figure what's next so I've taken a break from accomplishing stuff. I worry that this is a bad pattern I can't break from.
What the theory of emergence says is that complex systems arise from simple interactions. Complex behaviors and patterns start from simple behaviors. Also, the complex behaviors that do arise can't predicted examining the simple behaviors. You can't predict the honeycomb by looking at just the drone bee.
Simple behaviors like saving one quarter a day or meeting one new person a day creates far reaching results that can't be predicted because from those simple behaviors will cause other behaviors to emerge. Basically, it really does come down to you can't do the same thing an expect a different result.
I'm trying to change my life in a big way because I'm bored, exhausted, pensive, unexcited, all of the above. Most of all, I'm really comfortable which is more draining for me as an INFP than I had imagined when I was young and struggling.
I'm starting small. I'm trying to focus on this blog even though I want to know where it leads before I put so much of myself into it.
I think if any personality type is capable of great change it's INFP. Just start small. I am.
Ready. Go.