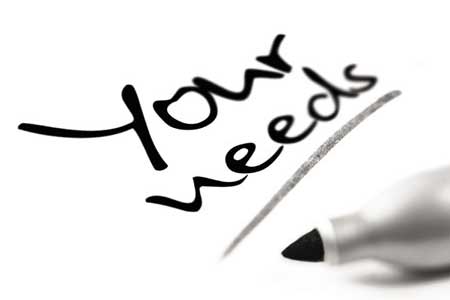 I've never been a fan of Mazlow's hierarchy of needs because I never saw people moving from Physiological needs to Self-Actualization in any type of linear progression. We jump around. Sometimes love is more important than eating. Sometimes people forgo love completely for esteem through achievement.
Instead, I prefer Tony Robbins definition of the six basic human needs.
Certainty – This is our need to be free from constant worry. In order to achieve this we develop a certain amount of consistency like getting a job or buying a house. We don't want to worry everyday about how we're going to eat or where we can sleep safely.
Uncertainty – This is our need for variety. If we knew everything that was ever going to happen in our lives then our lives would be boring.
Critical Significance – This is our need to feel special. Some people make a lot of money to feel significant. Other people get a lot of tattoos. It's different for everyone.
Love and Connection – This is our need for belonging. We don't want to feel like we're all alone inside our heads and our lives.
Growth – This is our need to avoid stagnation. Our lives never reach equilibrium. We are either growing or dying. If we stay at the same point in our lives for long enough, our level of happiness declines.
Contribution – This is our need to feel our lives are more than just ourselves. We don't want to die feeling like our lives made no difference to anyone.
Achievement vs Fulfillment
Achievement comes from being successful in one or more of these areas. Fulfillment comes from not feeling lack in every area.
Achievement gives us short term happiness. We get a really good job and make a lot of money or we build the largest ball of twine and we meet our need of critical significance. It gives us self-confidence in that area. However, if the other areas are lacking we feel unhappy.
No matter how much success we have, if love is lacking and we feel disconnected from others, we're unhappy. If we have a great family and friends and we feel totally connected, but we feel that we haven't done much else to reach our dreams then our Growth need hasn't been met and we feel like were in a rut.
Lasting happiness doesn't mean great achievement in all these areas. To feel fulfilled, we only have to meet our basic needs in each area so we don't feel like we are missing something from our lives.
Meeting Multiple Needs
Everything we do meets multiple needs. We don't do one thing just to meet one need. I write this blog to meet my need for Critical Significance and Contribution. When my wife and I adopted, that decision lead to meeting our needs for Love and Connection, Contribution, Growth and Uncertainty.
I've found that certain Need combinations are healthier than others. The big combination I avoid is trying to mix Love and Connection with Critical Significance. This is the combination that gives you helicopter parents with a control issues. I think it also leads to deciding to have kids to save failing marriages and staying with people that treat you poorly.
When we combine needs we can focus on a fewer actions to meet those needs. Focusing on fewer things let's us be better at those things. That's how you a person gets both achievement and fulfillment.
Good vs Bad Need Combinations for INFPs
Good: Love and Connection with Growth – This keeps us focused on letting people into our lives that make us a better person.
Bad: Love and Connection with Critical Significance – This leads to neediness and unbalanced relationships because all relationship have a degree of Uncertainty and we get desperate if we see that relationship ending.
Good: Critical Significance and Contribution – This combination lets us do great things to help other people. It makes us have lives that isn't just about us.
Bad: Critical Significance and Uncertainty – We get bored as INFPs. This leads us to taking stupid risks in order to feel more alive. This could be moving across the country or leave jobs and people. This is why we fall into intense relationships and start getting restless when we are finally confronted with the day-to-day realities of a relationship.
Good: Growth with anything except Certainty – Growth means having goals and getting to somewhere we aren't yet. It means taking calculated risk. You can't grow by doing more of staying where you are.
Bad: Critical Significance and Certainty – This is our desire to be right overcoming our desire to be effective. Thinking and being different than everyone else makes us feel special. However, we hold onto beliefs to feel special even though we realize that those beliefs haven't made us happy.
Our Order of Needs
The order of importance of our needs is different from person to person. The order of importance is based on values. Some value Love and Connection over Critical Significance. Some value Contribution over Certainty.
Each unmet Need is a hurt. We hurt in that area. However, like our physical bodies we usually focus on our greatest hurt. If we're in a car crash and we break our femur, we're not going to feel the contusions our face. It's the same with Needs. If Love and Connection is our highest Need, we're not going to feel unmet Certainty Needs. After a breakup with someone we love, we don't care about our job or if we eat.
Single people spend a lot of time being single. Broke people spend a lot of time being broke. Unhappy people spend a lot of time being unhappy. We focus on and talk about the things that are causing hurt in our lives. Unfortunately what we focus on becomes more real.
You know why people get into accidents by hitting the only tree in the middle of nowhere. They lose control of the wheel for a second and the first thing they do is focus on the thing they don't want. Don't hit that tree. Don't hit that tree. And they end up hitting that tree because by focusing on the tree, their hands are unconsciously turning the wheel towards the tree.
It's the same with all areas of our life. The more we focus on our lack, the more we turn the wheel of our lives towards that lack. Haven't you ever heard people say, I found the husband/wife shortly after I decided to stop looking? It's not that they stopped looking. It's because they focused on something else other than being lonely.
Growth is the easiest Need to meet
Even though we may value other needs more intensely, Growth is the easiest to meet because it doesn't require anyone else.
Certainty requires that someone else give us a job or that the grocery store doesn't close early or the tax law doesn't change or a variety of things beyond our control. Uncertainty requires outside situations because we only do things that surprise us when we are forced to. Critical Significance requires other people to recognize we did something significant. Love and Connection requires someone else for us to love. Contribution requires someone to reap the fruits of our efforts.
Growth is the only need that doesn't require someone else. Growth is decision and action. We grow every time we make a decision and commit to it by taking action towards that decision. We grow by taking small actions each day to become our Ideal Self. If our Ideal Self is someone who is self-confident. We set a small goal each day and accomplish that small to build our confidence. If our Ideal Self is loving, we learn to consistently do thing to show that love for the people we care about. Growing is doing.
It's from focusing on Growth that gives INFPs the self-confidence to attract those things and people into our lives that let us meet our other needs.