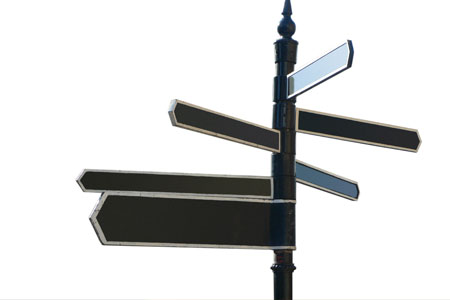 Throughout our lives, we have periods when we don't know where we're going with our lives or what we should be doing. A bad breakup, loss of job or loved one or a change of heart can make once immutable goals seem no longer relevant.
We become a bit lost but that lost feeling seems oddly right for the moment. We're in downtime. Downtime is a period where we regroup, conserve energy and figure things out. If downtime extends too long we get antsy and feel that we should be doing something more.
However, after having no direction for so long, it's hard to figure out what we should be moving towards. The more we try to get ourselves moving, the less appealing our choices become. Nothing we do feels right.
Be The Right Person
In Good To Great, Jim Collins explains the idea of the Hedgehog Concept which helps in figuring out what to do.
The step before the Hedgehog Concept for a company is to find the right people. Collins says that the right people as part of the company will do the right thing even if the company doesn't have a clear direction. The right people don't need to be managed. When the company does find it's Hedgehog Concept, it's the right people who will have the skills, attitude and motivation to move the company onto that new path.
Applied to an individual, "find the right people" equates to be the right person. If you're the right person than you don't need to manage yourself. You won't need to manage self-defeating behavior or limiting beliefs. If we don't know our Hedgehog Concept yet, being the right person keeps us growing until we do figure out what we should be doing.
For example, if you see yourself as an artist or a writer and want to make a living at your craft, being the right person means being someone who practices their craft every day. Writers who make a living at writing learn to overcome procrastination. They write a certain number of words daily even when they aren't inspired. They know how to compose query letters and approach publishers. If you want to work as a writer, you need to have habits and the knowledge first.
Figuring Out Who We Want To Be
We are not one thing. Like a company, our lives are complex network of relationships. A company is not just the CEO. Similarly, no person is just a writer or just a parent.
An exercise I learned from E-Myth Revisited by Michael Gerber, is how to create an organization chart. Gerber's book is about why businesses fail and what to do about it.
Gerber says that before anyone starts a business, they should write down the organization chart of the entire company from CEO all the way down. In each position in the organization chart, they write down specific responsibilities and tasks that will make that position successful. This way no responsibilities gets missed. At first, the small business owner writes his name in each of the position and must do all the tasks. As the company grows, the owner hires people to replace their name on the org chart.
I've applied this concept to my life my creating a Role Chart. Any life requires a set of Roles that need to be played. Those roles demand certain responsibilities and require tasks in order to be successful. For example, if parent is one of the Roles in our lives then one of the required tasks is spend time with our children. If we spend zero time with them then being successful in that Role is unlikely.
My main roles are husband, parent, son, brother, income generator, writer, life long learner, contributor, self-caretaker
Those roles have sub-roles. For me, friend falls under the category of contributor. I see that sub-role as being someone who improves the lives of the people in my life. World traveler and computer geek falls under life long learner. Cook and maid falls under husband and parent.
Although our Roles are not our Identity, the sum of our Roles equates to the life that we live. Anything that I want to be doing with my life falls under one of those Roles. For example, I like to play video games when I get the chance. It gives me the chance to unwind. That falls under the Role of self-caretaker. I like to travel which falls under the Role of life long learner.
What if what we want is more abstract like to be more outgoing or to be better at relationships? Being requires doing. We can't be more outgoing without doing the things that make us more outgoing. We can't be more outgoing, unless we do something besides stand in the corner. We can't be better at relationships if we don't do something like improve communication skills.
Also actions needed differ between Roles. Improving our relationships as a parent requires different actions than than improving our relationships as a income generator.
The Purpose of Roles
Roles fill needs. I wrote about Tony Robbins six critical needs: Certainty, Uncertainty, Growth, Critical Significance, Love and Connection, and Contribution.
My Role as father meets my needs of Uncertainty, Love and Connection, and Growth. My Role as income earner meets my needs of Certainty and Growth.
Lives with the most stability have those needs supported across many Roles. When we put all our needs into a single basket like the Role of significant other, our lives fall apart should something happen to that relationships. If that single basket is dropped, all our needs are now completely unmet.
Sometimes, we have Roles in our life that meet none of those needs. Those Roles then have to be re-evaluated. Roles have actions and if those actions don't fill a need then we are doing things that don't contribute to our lives.
Idealism and Roles
There are no ideal Roles, only ideal ways to play that Role. Those ideal ways are different for everyone. For some, world famous movie star or successful entrepreneur is a better way to play the Role of income earner than McJob employee.
This is where conflicts with "reality" arises. We want to play a Role one way, but we've either repeatedly failed or don't know how so we do something else, something less ideal for that Role in order to fill our needs. This is especially true with careers and relationships.
Being Better at Your Roles
Being better at a Role does not mean creating a Bucket List and going from one accomplishment to another. Roles are continuous because the critical needs are continuous. Roles don't stop when we cross off an item. If taking the kids to Disney World is on our list, our role as parent doesn't end at Disney World. We don't tell our kids, I'm sorry you're getting picked on at school, but I took you to Disney World and therefore have met my Love and Connection needs so you kids need to figure this one out for yourselves.
Accomplishing a Bucket List doesn't make you better at your Roles, being better at your Roles lets you accomplish your Bucket List. Being better means being better at the basics.
Each Role has basics. Our basics are habits like listening attentively or exercising regularly. If our Bucket List has running a marathon, the habit of exercising daily under the Role of self-caretaker is going to give us the ability to accomplish that item.
Being better at a Role means doing little things each day that improve our habits in that Role. Taking our kids to one big trip doesn't make up for long periods of inattentiveness. We often focus on significant goals as a way to distract ourselves from having to face the day-to-day repetition required to be better at the basics.
Being Aimless
Being aimless doesn't mean doing nothing. We are always doing something. The question is whether that something contributes to our ideal life.
Being aimless means that we pause from crossing off goals on a list. Goals are only good if they're the right goals for us. Sometimes that changes. Our values change. Our priorities change. Items on the list we made five or ten years ago, may no longer make sense. When climbing the ladder of our own personal success, that ladder needs to lean against the right wall.
Sometimes we don't know if it's the right wall anymore. At those times, it's better to stop climbing, take a break to decide whether we should keep moving or climb down and start again on a different wall.
By focusing on being better at each Role, we improve our lives without measuring ourselves by crossing off an item on our list that may prove to be meaningless later. Being better at a Roles means continually improving habits and skills while keeping an eye out for opportunities to improve the way we do that Role. Doing this leads to new things we never considered before. It's the right new things that gets us moving again.