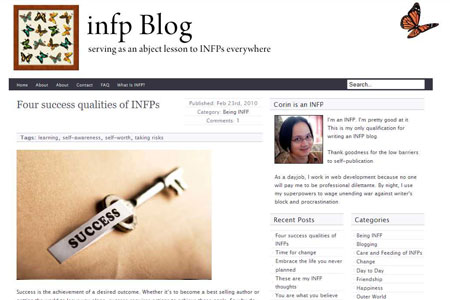 I waited a year before taking the time to design my blog. The first iteration took me 15 minutes to throw together from a template I found. This version, I spent roughly 60 hours designing and coding over the last 2 weeks. Even before I started design, my two questions were "so what?" followed by "who cares?".
Amanda Linehan, an INFP who writes a self awareness blog, Look Far, wrote about asking the right questions. For me, "So what?" and "Who cares?" are my most important questions. They give me perspective. They moderate my need for validation. "So what" reminds me that even though I think I'm unique and special, the universe is under no obligation to acknowledge this in anyway.
INFP Blog is my third blog. The first two failed. I forgot that the fundamental objective of any blog is building a relationship with your reader. Anyone who says that they write blogs for themselves needs reminding that if a person wants to write something no one reads, it's easier to keep a diary under the bed. Pen and paper have smaller learning curves than WordPress or Blogspot.
...Continue Reading